JoAnn Jackovino (Ms.Jo) is a former classroom teacher with a deep love and concern for children. She began writing children's stories to help children learn to solve their everyday problems in a fun, exciting way. The characters in her stories are faced with a variety of problems which are solved with logic, common sense, and even a wee bit of magic.
As well as writing stories for children from Pre-K to Grade 4, Ms. Jo works as a substitute teacher, private tutor, Skype tutor, teacher of creative writing, and teacher of ESL. She also works as a storyteller performing her original stories for children and parents. Most recently, she has led teacher workshops at Barnes & Noble for continuing education credits.
Ms. Jo finds great joy in both writing her stories and in helping children learn how unique they are. Everyone needs a bit of magic in their lives, especially children. For that reason, she has created Humphrey the Magic Frog.
Ms. Jo has one daughter, and resides in New Jersey.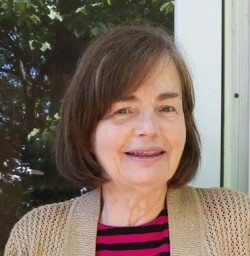 Who is Humphrey?
Humphrey the Magic Frog is a very unique and special frog.
Humphrey is a standing frog with silver-toned iridescent skin. He has a kind heart, a wonderful, all-knowing smile, a soft gentle voice, and a caring manner. Humphrey's heart glows a bright shocking pink when he helps any animal friend in need.
Humphrey lives in the wonderful world of Jasper Jungle on a silver and golden lily-pad in the center of Salem Pond. His silver and golden lily-pad gently glides to the surface of Salem Pond amid churning waters when called upon by any animal in need of his help.
All the animals of Jasper Jungle know they can depend on Humphrey the Magic Frog. With their problems solved, Humphrey smiles his all-knowing smile, taps his shocking pink heart three times, and vanishes from sight.
Read along with your children or students, as they create "word pictures" of the many adventures of Humphrey the Magic Frog and his colorful animal friends! Through these stories children will learn, in a fun way, simple solutions to the everyday problems they face using common sense, simple logic, and a wee bit of Humphrey magic!